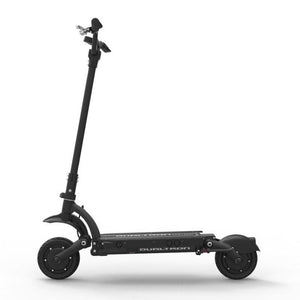 Dualtron Raptor 2 electric scooter - 60V 18ah
€1.790,00
You benefit from free shipping for this order, enjoy!
---
Delivery 48-72h
2 Year warranty
Quality products
Secure payment
---

Presentation of the Dualtron Raptor 2:
Handlebar lights
Folding bar holder
Lighter gear (23 kg): facilitated transport thanks to its lighter weight
ABS braking system: an ABS braking system set up to strengthen your safety. Indeed, this system will help you keep the directional control of your scooter by preventing the wheels from locking during an intense braking episode.
Electric scooter Dualtron 2 Raptor Minimotors:
You have under your eyes (and soon with you) the famousElectric Scooter Dualtron Raptor Minimotors Version 2. With exceptional power thanks to its two engines of 800 W each (1600 W in total), it is capable of rolling Up to 60 km / h. 60, it is also the number of kilometers of autonomy that its 60 V battery it offers you. But theMinimoTors Dultron Raptor 2much more to offer you.

Dualtron Raptor V2: Design and Design
For theDualtron Raptor 2 electric scooter 2 with a 60V18AH battery,MinimoTors opted for a design in all terrain mode. This choice has been made without a doubt to reflect the true "Raptor" side of this dualtron. TheMinimoTors Dultron Raptor 2Also enjoys a high quality design because its chassis is made from a very resistant aluminum 6063 / t6 and steel alloy.

Raptor 2 Dulttron: flagship characteristics
Here are some flagship characteristics of the
MinimoTors Dultron Raptor 2
, Which will surely crack for her:
Folding system: Dualtron Raptor 2 Minimotors is a foldable and easy to carry electric scooter. You can prevail it all over with you and store it discreetly
Battery: The Dualtron Raptor 2 electric scooter will allow you to browse a very long distance in eco-friendly because this machine offers up to 60 km of autonomy, this thanks to its polymer lithium battery with a remarkable capacity of 60 V 18.2 Ah
LED: Even at night a "Raptor" does not run any danger and scooter Daltron Raptor 2 proves it well with its front and back headlights. These ensure your safety when driving in a weakly illuminated place
Engine: If a motor power of 800 W is rare on a standard adult scooter, the minimootors Daltron Raptor 2 offers you these 800 W on each wheel, or 1,600 W of power in total, for up to 60 km / h speed maximum
Driving: Thanks to its rubber suspensions, the Daltron Raptor 2 guarantees you balance and comfort during driving and even on rugged terrain
Slope: Raptor Daltron 2 can make you climb a coast of a slope of less than or equal to 30 °
Brakes: The Daltron Raptor 2 electric scooter also has two types brakes, an electric and the other in drum, for more safety and efficiency during braking
Minimotors Dultron Raptor 2:
Practicality and ergonomics, thanks to its ease of folding
Large reach, with up to 60 km of autonomy, or more according to your template and the type of grounded terrain
LCD display, to know everything about your machine
Optimal night security thanks to the front and rear LED lights
Power and speed, thanks to the 800 W engines on each of the wheels
Balance and driving comfort guaranteed by excellent front and rear suspensions
Excellent design quality, which ensures a larger period of use
Dualtron Raptor 2 electric scooter: for whom / for what purpose:
TheDualtron Raptor 2Address all fans of urban and eco-responsible gliding. Nevertheless, it will suit you better if you are less than 110 kg because the maximum load it can support is about 120 kg. In addition, the other good news with theMinimootors Dualtron Raptor 2It is that you can ride with it on almost all the grounds: smooth terrains, asphalt and paved.
A quality service at your disposal:
For any product purchased at Pie Technology, you benefit from our quality-quality service for 2 years.
We have anrepair workshopand ofcustomizationand aSavingship Present to meet any request. You can reach us by email, phone as well as in our shops.
* Pack offered for any purchase at the indicated public price. Not valid if use of a promotional code.
Delivery in 48-72 hours
Offered on France for all our hoverboard, electric skate, electric bicycles, and other gyropods.
2 years warranty
A French sav made by our skilled skilled technicians, electric scooter, electric scooter or gyrror to ensure you reactivity and tracking your repairs.
Quality, our priority
All our components, selected for their reliability, are CE certified, RoHS, FCC. Lithium batteries of our electric scooters and bike are certified.
Boutique sur Lyon
We welcome you from Tuesday to Saturday from 10am to 7pm to advise you and make you try free electric scooter, an electric skate or an electric bike.
---