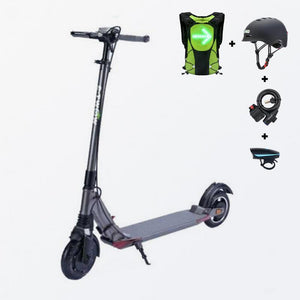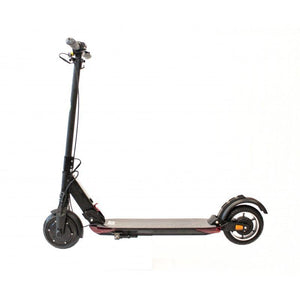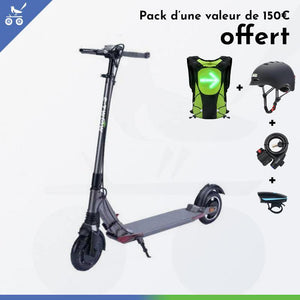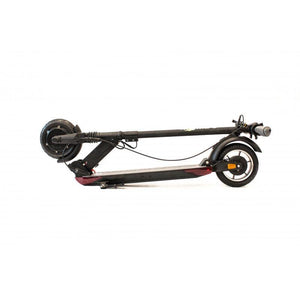 Electric Scooter E-Twow Booster GT Plus 2020 - 48V 10,5Ah
€999,00
This item is currently sold out.

Discover the new e-Twow GT plus 2020 the most powerful
The scooter is able to provide the following performances:
A peak speed of 25km / h (45 km / h on private path).
- A 35 km autonomy depending on the mode and the driving conditions.
Crossing the ribs up to 25 °
With a weight of 11.9kg, the booster GT 2020 remains the scooter the lightest and most powerful of its category. It folds in one click, and its look is similar to that of a mechanical scooter. It is therefore not intrusive in public spaces and integrates very easily with any type of environment.
Equipped with a new battery more powerful.
The booster GT plus 2020 is equipped with a48V 10.5Ah batterySamsung brand, capable of providing the power needed to cross the most difficult ribs with 18 N.M couple.
The scooter comes equipped with a 3-amperer charger that allows you to charge the scooter in a little more than 3 hours when it is completely empty.
Full and robust electronics
Just like all other e-Twow is equipped with electronics allowing:
To set the different parameters: Anti-start, cruise control, rear light, speed limiter ...
To diagnose faults with error codes
The color display or dashboard allows you to view the speed, the distance traveled, and of course the charge level of the battery. Although the e-Twow scooters are able to ride without battery and / off, it is an important element to finish your path at a reasonable speed.
A comfortable and visible scooter at night
Speed ​​and autonomy are appreciable, but comfort and security are paramount for daily use.
With its Two AV / AR shock absorbers which offer more flexibility and a travel to absorb the irregularities of the sidewalks. One tender gum tire at the back For better ground flooring and vibration absorption, its level of comfort on degraded / paved floors is exceptional and approximates that of a bike.
​
The size of its wheels 8 inch Allows you to have a compactness without compromising the comfort of use. The electric scooter is also equipped with Front and rear suspensions.
For your safety, E-Twow also planned the necessary for you to be visible during the night.
Like all E-Twow scooters, the booster GT 2020 remains a light and foldable scooter.
The braking comfort is increased.
In addition, the GT 2020 has A mechanical brake that you can activate by the foot and an electronic brake for the front tire. But it's addingan additional manual drum brake at the back combined with the recharge of the low speed battery (Kers technology) that perfects this model.


What's new in the booster GT 2020
This electric scooter benefits from the latest news provided by E-Twow:
rear wheel tender tender ultra comfort
Prolonged rear mud guard without screws
Longer and wider deck with its grip modify for more comfort.
Improvement of its folding system which increases its ease of use.
New generation sport controller with new air intake. New year's novelty!
Rear drum manual brake for added safety.
Additional reflector on the rear fork.
Faster, more powerful and always transportable The e-Twow GT 2020 is positioned in the top of its category.
Bridae delivered at 25km / h according to the legislation in force Art. 6.13 R.311.1.
TECHNICAL SHEET
| | |
| --- | --- |
| Marks | E-twow |
| Weight | 11.9 kg |
| User weight limit | 120 kg |
| 0 to 25 km / h | 5 seconds |
| Couple | 18 N.m |
| Maximum speed | Bridée at 25 km / h (45km / h on private land) |
| Wheel size | 8" |
| Autonomy | 35km |
| Max. | 25° |
| Loading time | 3H |
| Battery | 48V 10.5A Samsung |
| Engine power | 700W |
| Charger | Yes 3a |
| Guarantee | 2 years and 1 year for the battery. |
| Gripping | Beginner |
| LED lights | LED lights front and rear on mudguard. |
| Sealing | IP54 |
| Braking | Magnetic brake front wheel with KERS system and brake rear drum + brake on the mudguard |
| Technologies | KERS (energy recovery) |
| Tires | Tender gum |
| Foldable | Yes |
| Folded dimensions | 1150 * 330 * 150 mm |
| Suspension | Front and rear shock absorber |
| Speed ​​mode | 5 modes (6 km / h, 12 km / h, 20 km / h, 25 km / h). |
| Screen | LCD 80 x 60 x 60 mm - Color - Total Counter / Daily Counter / Ambient Temperature / Speed ​​/ Battery Level / Light / Klaxon |
A quality service at your disposal:
For any product purchased at Pie Technology, you benefit from our quality-quality service for 2 years.
We have anrepair workshopand an understanding to meet any request. You can reach us by email, phone as well as in our shops.
* Pack offered for any purchase at the indicated public price. Not valid if use of a promotional code.
Delivery in 48-72 hours
Offered on France for all our hoverboard, electric skate, electric bicycles, and other gyropods.
2 years warranty
A French sav made by our skilled skilled technicians, electric scooter, electric scooter or gyrror to ensure you reactivity and tracking your repairs.
Quality, our priority
All our components, selected for their reliability, are CE certified, RoHS, FCC. Lithium batteries of our electric scooters and bike are certified.
Boutique sur Lyon
We welcome you from Tuesday to Saturday from 10am to 7pm to advise you and make you try free electric scooter, an electric skate or an electric bike.
---