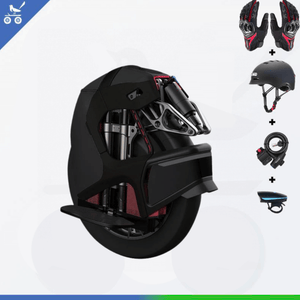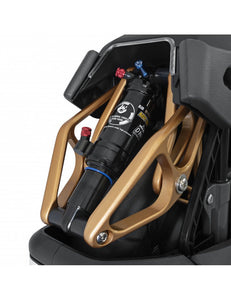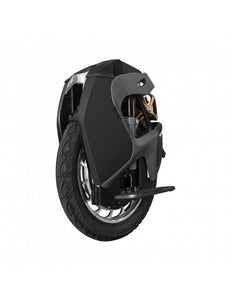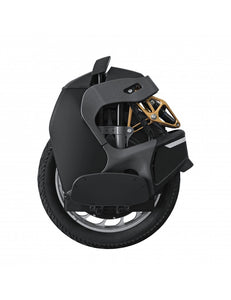 €2.149,00
You benefit from free shipping for this order, enjoy!
---
Delivery 48-72h
2 Year warranty
Quality products
Secure payment
---
Discover the electric wheel of Kingsong KS-S18 Ultra Sportive - 1110 Wh
The KS-S18 electric wheel of 18x3 inches from Kingsong and the first electric wheel of the brand integrating an adjustable pneumatic suspension system. This 18-inch gyrror and a sports at the maximum comfort
The brand new Kingsong KS-S18 gyrror presented on April 8, 2020 has an Avangardist and Futuristic design. The KS16X was already a wheel with innovative design and breaking with the traditional KS16, with KS S18 Kingsong confirms the trend is no longer complying.
The DNA of this new Kingsong wheel: comfort, sports and rupture of design.
The comfort of KS S 18:

The scoring of this new KS S18 gyrror is of course the integration of a suspension with an adjustable air damper 200-57 from the mountain bike universe, mounted on an X axis offering a 100mm deflection. Each user will be able to adjust his setting with respect to his assessment of comfort and its template. Remember to predict in your bag for your Raod trip a high pressure pump.
In addition to this very very important inovation in the universe of electric gyrror, the KS S 18 is equipped with an 18 '' ditto tire than the KS18L or XL but in 3 '' wide (vs 2.5) like the one found on the MSuperx or the InMotion V11 other novelty of 2020.
Always and again, the Kingsong brand has been aware of its developments in recent years, collaborated with the Kujiroll Chinese YouTubeur for design.
Power and stability of KS S 18:

The Kings KS S18 Gyrroroue is amazing. It offers great sportsmanship, thanks to its 84V and 2200W engine in nominal power that can develop up to 5000W peak, with a torque of 140N.M. , Ultra-sport power and acceleration are at the rendezvous for this 18 inch wheel. The Extreme Wheelers will be served, the KS S18 is given for an ability to climb maximum slopes of 40 ° or 75%.
Equipped with a 3 '' wide tire This gives it a good level of stability by a larger ground tire surface than KS18L or XL.
Endurance of the KS S18 wheel:
The autonomy given by its 84V 1110WH battery reaches up to more than 110 km
in a single charge. Depending on the type of driving and driver, you can leave on an autonmy in mixed course of approximately 75 / 85km from our experience of the KS18L. The KS S18 integrates a new Kingsong signed battery generation, with cells 21700 to best optimize the space and performance of the said battery.
For the load, there is only one load port and not two as on the KS18 L / XL and the KS16x, the design being wanted enough revolutionary and minimalist it does not allow to place two load ports like Kingssong had used to us until there. The load port is nevertheless a 2.5A to allow a relatively fast load. The charge time is estimated at 6:00
Performance and speed of KS S18, your KS S18 electric wheel can reach the speed of 25km / h as the French regulation imposes it. It can climb up to 40km / h see 50km / h for circuit or private ground walks. Speed ​​alarms are the numbers of three and always adjustable from your smartphone, as on the entire KS range. Added to this is the tiltback at the same level or just after the 3rd alarm.
Equipment of this wheel KS-S18:
White lights at the front and red on the back
Allow you to see and be seen as throughout the Kingsong range. Inovation again on this S18 with a front lighting power of 2x4w (growing lights) and 2x5w (road fire) according to your choice. The latter is twice as powerful than on the KS16X.
The rear lighting is a 4 in 1: it makes both the battery gauge office because you have noticed it there is no more LED on the sides of the wheel, position light, stop stop and flashing .
We find the traditional USB socket in front for your equipment: smartphone, camera, lighting, etc ...
The motherboard design has been revised and redesigned to bring better cooling from it without adding a fan.
A built-in trolleyYou will avoid wearing it during your shopping or walks in town. The trolley of the KS S18 is new generation integrated 100% as each time at Kingsong. To this as since the KS18XL, the KS S18 integrates the motor cut sensor when carrying the wheel to prevent the engine from racing.
A dedicated application:Set the driving mode of your KS S18, your alarms and follow your speeds, courses and battery, thanks to the application that also makes updates to the firmware of your wheel, and thus benefit from the latest improvements of algorithms without changing mounting.
A quality service at your disposal:
For any product purchased at Pie Technology, you benefit from our quality-quality service for 2 years.
We have anrepair workshopand an understanding to meet any request. You can reach us by email, phone as well as in our shops.
* Pack offered for any purchase at the indicated public price. Not valid if use of a promotional code.
Delivery in 48-72 hours
Offered on France for all our hoverboard, electric skate, electric bicycles, and other gyropods.
2 years warranty
A French sav made by our skilled skilled technicians, electric scooter, electric scooter or gyrror to ensure you reactivity and tracking your repairs.
Quality, our priority
All our components, selected for their reliability, are CE certified, RoHS, FCC. Lithium batteries of our electric scooters and bike are certified.
Boutique sur Lyon
We welcome you from Tuesday to Saturday from 10am to 7pm to advise you and make you try free electric scooter, an electric skate or an electric bike.
---