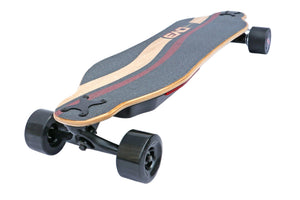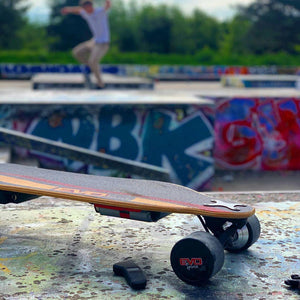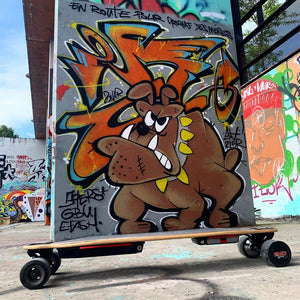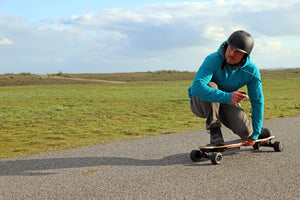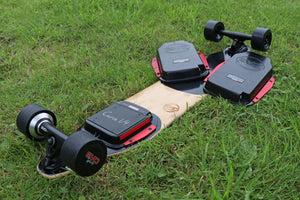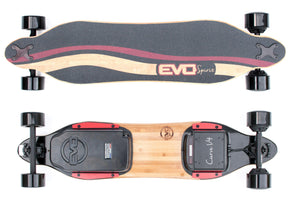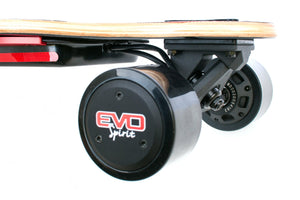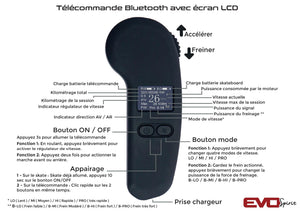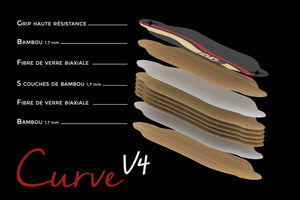 Electric Skateboard Curve V4 - 7 AH / 11.6 AH / 14 AH
€990,00
You benefit from free shipping for this order, enjoy!
---
Delivery 48-72h
2 Year warranty
Quality products
Secure payment
---
Discover the Curve V4 Electric Skateboard, a real longboard with Flex Tray and Interchangeable Battery Made in France!
Evo-Spirit 2020 electric skates are the Only offer both a high-end Flex tray and an interchangeable battery of large capacity. 
They have developed a 100% bamboo tray composed of 7 folds and measuring 97cm * 28cm to obtain Flex, bringing comfort and allowing you to Find the sensations of a non-motorized skateboard.
To avoid limiting the flex of the tray, they chose to create a controller block and a compact and separate battery pack. This battery pack is interchangeable, it allows to replace the battery Easily and without tools. You can invest in a second battery and transport it in your backpack during your electric skate outings, for a maximum autonomy. An exclusive Evo-Spirit innovation! For the purchase of a Curve V4, we propose An additional battery at preferential rate.  
Let's talk power with his
 

Brushless 1200 Watts (2 * 600W) engines

Thisskateboardnew generation electricAllie all the simplicity of classic longboard with the power and innovation of the electric motor "Evo In-Wheel Motor".

These 2 brushless engines of 600 watts each are integrated with back wheels 90mm in diameter and hardness 80a. These hub engines allow you to reach peak speeds up to 39km / hwhile keeping exceptional stability.

Hisexcellent freewwel Increases autonomy and gives a real sensation of skate, without feeling resistance when you stop speeding up!

The direct transmission of the engine integrated to the wheels allows to transmitting beltSo there is no maintenance to predict. The Wheel gums are interchangeable, in case of wear, you can replace these last.

 
Lithium battery known "Made in France"
the electric skate Curve v4 can be equipped withbatteries Large capacities for maximum autonomy:
battery 7a.h
Battery 11.6A.H
14A.H battery (equipped with a fast feeder 4A)

 
The battery packinterchangeable simply replaces and without tools, you can so multiply your autonomyThanks to blocksbatteriesoptional,transportable in a backpack.
For more security and reliability, all our batteries are assembled in a workshopspecialized in Francein Francewith cellsHigh quality brand Samsung.
This high quality assembly with a BMS (control circuit) designed specifically for our batteries offers several advantages:
To have some

batteries with longer life,

about 800 cycles charge and discharge, allowing to propose

a 2 year warranty.

To have somesafe and reliable batteries,Deletes the risk of fire from assembled batteries. Made in France has a cost butFor Evo-Spirit the reliability and security of its customersDo not price.
 Autonomy of the CURVE V4 Electric Skate:
56 km max with the

 

battery

 

14 A.H (504w.h)

46 km max with the

battery11.6 A.H (418w.h)


28 km Max with the

battery

7 A.H (252w.h)
The battery 7 A.H is delivered in a 28 mm battery pack that we recommend for the Curve V4.
The batteries 11.6 A.H and 14 A.H are delivered in battery blocks of 56 mm thick.
If youWish a great autonomy, we encourage you toUse two blocks of 7 A.H batteries, to keep a fine battery pack.
Road approved electric skate or sport version
To adapt to the new regulations on personal motorized travel gear (EDPM), EVO-Spirit gives you the possibility to choose between 2 versions:
The sport, unbridged version, allowing to rider up to 39km / h, only on private lands.
The EDPM, certified to drive on public roads, flange at 25km / h.
The EDPM version is supplied with a buzzer (finger bell), as well as a removable lighting kit attached to the truck.
Let's see the equipment of the Curve V4 electric skateboard
Controller with charge indicator
the New generation brushless controller East Optimized and set for Curve V4 and hasAn LCD screen indicating the load of the battery.
Bluetooth remote control with LCD screen
TheBluetooth remote control has a LCD screen offeringmultiple options : Cruise control, independent adjustment of acceleration and braking, skate battery levels, battery level of the remote control, instantaneous speed, max speed, total mileage and mileage of the current session.
A high-end transport bag (optional)
The carrying bagspecifically designed For the Curve V4 allows to transport it easily and in Any discretion on your workplace or in public transport.
You can wear it3 different ways : 
Backpack, with its adjustable 2 straps.

 

A shoulder strap,Enhancing one of the straps.

 

In sports bag,The 2 straps turn into handles.
This bag is designed forrolled and slippedin one Mini backpack supplied with the bag, forTransport it when using your electric skate.
Battery charger :
The lithium battery (Li-ion) is charging thanks to aCharger 2 amperesSupplied with version 7 A.H and 11.6 A.H. The battery 14 A.H is supplied with aCharger 4 amps,for aRefill twice as fast !
Estimated charging time: 
3H for the battery 7 A.H
5H for the battery 11.6 A.H
3H for the battery 14 A.H thanks to Quick charger 4a.
Pie technology is also a quality service at your disposal:
For any product purchased at Pie Technology, you benefit from our quality-quality service for 2 years.
We have anrepair workshopand ofcustomizationand aSavingship Present to meet any request. You can reach us by email, phone as well as in our shops.
Delivery in 48-72 hours
Offered on France for all our hoverboard, electric skate, electric bicycles, and other gyropods.
2 years warranty
A French sav made by our skilled skilled technicians, electric scooter, electric scooter or gyrror to ensure you reactivity and tracking your repairs.
Quality, our priority
All our components, selected for their reliability, are CE certified, RoHS, FCC. Lithium batteries of our electric scooters and bike are certified.
Boutique sur Lyon
We welcome you from Tuesday to Saturday from 10am to 7pm to advise you and make you try free electric scooter, an electric skate or an electric bike.
---