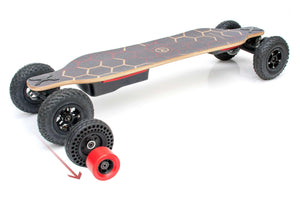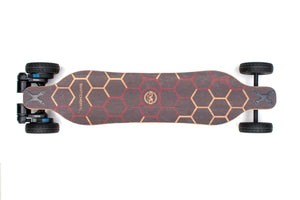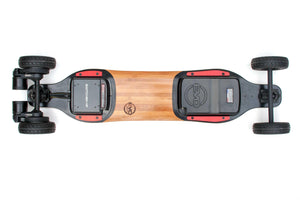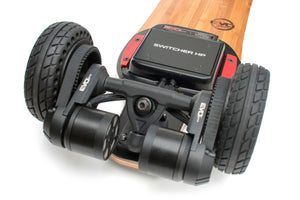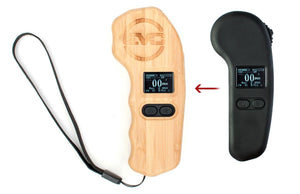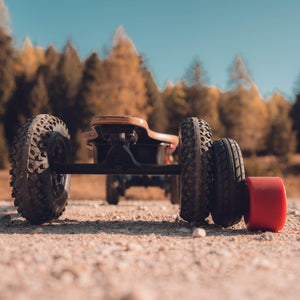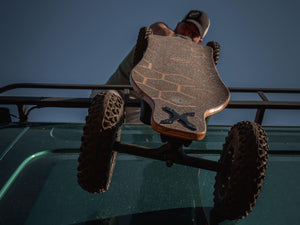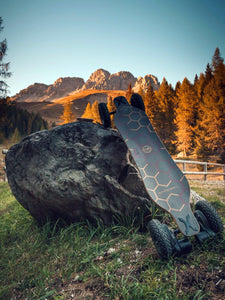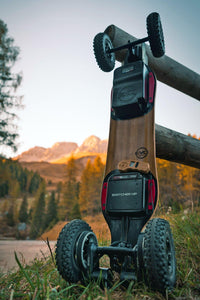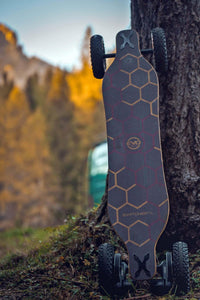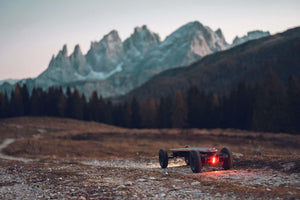 Switcher Electric Skateboard HP V2 - 11.6 AH / 14 AH
€1.640,00
You benefit from free shipping for this order, enjoy!
---
Delivery 48-72h
2 Year warranty
Quality products
Secure payment
---
Discover the electric skateboard Switcher HP V2
Electrical Skate 3 in 1: Longboard, Skate All Path or Skate All Terrain, it's you who choose.
The HP V2 Switcher is aElectrical skate 3 in 1,to spend in less than 2 minutes from a longboard to an all-terrain skate, passing through a skate any way, with 4 different types of wheels.
Skate all terrain: 8 inch inflatable wheels / 20 cm.
Skate all path:

 

Increvable wheels 6 inches / 15 cm or cloudwheel 120 mm or 105 mm.
Longboard: 90 mm urethane gum longboard wheels or 83 mm / hardness 80a
Longboard electric skate or an electric skate any way, or any terrain?
The HP V2 Switcher makes the 3 without compromise Thanks to its different sets of wheels.
An electric skate with flex tray and battery "Made in France" interchangeable!
Evo-Spirit electric skates are the Only offer both a high-end Flex tray and an interchangeable battery of large capacity. 
They have developed a 100% bamboo tray composed of 7 folds and measuring 107 cm x 28 cm to obtain from Flex allowing you to find the sensations of a non-motorized skateboard. 
In longboard configuration, you find them Real sensations of longboard, ideal for carving and cruising. In any way or any terrain configuration, The Flex brings real comfort, allowing to browse the stringent paths without have the vibrations that go back in the legs.
To avoid limiting the flex of the tray, they have Chosen to create a controller block and a compact and separate battery pack. This battery pack is interchangeable, it allows to replace the battery Easily and without tools. You can invest in a second battery and transport it in your backpack during your electric skate outings, for a maximum autonomy. 
Let's talk power with his
 

3200 Watts Brushless Engines (2 * 1600W)

The HP V2 Switcher, is the evolution of the Switch. The term HP stands for High Performances. For this reason, this electric skate is equipped with 2 external brushless motors 6354 of 1600W each. 

These 2 high-performance engines are designed to offer the HP V2 Switcher more power and more torque. 

In Longboard configuration, Its power will come to the end of the coast with ease and its Advanced speed is 40 km / h. 

In all-terrain configuration or any way, its power and couple allow to pass in steep places and reach a maximum speed of 40 km/ h.

 

A
 

Lithium battery known "Made in France"

 

Switcher electric skate HP V2 can be equipped with batteries large capacities for maximum autonomy : - 7Ah battery - 11,6AH battery - 14Ah battery (equipped with a fast feeder 4A). 

The battery packinterchangeable replaces easily and without tools, you can so multiply your autonomyThanks to optional battery packs,transportable in a backpack.

For more security and reliability, all batteries are assembled in a Specialized workshop in Francewith cellsHigh quality brand Samsung.

This high quality assembly with a BMS (control circuit) designed specifically for the Batteries offers several advantages:

- Have batteries with longer life, about 800 charging and discharge cycles, allowing to propose a2 year warranty.

- have safe and reliable batteries,Deletes the risk of fire from assembled batteries. Made in France has a cost butFor Evo-Spirit the reliability and security of its clientsDo not price.

 

Let's continue with autonomy
HP V2 Switcher Electric Skate:
In configuration

 

Longboard:
- 46 km max with battery 14 AH (504W.H) - 38 km max with the battery 11.6 AH (418W.H)
In configuration

 

All path:
- 28 km Max with the battery 14 AH (504W.H) - 23 km max with the battery 11.6 AH (418W.H)
In configuration

 

All Terrain :
- 28 km Max with the battery 14 AH (504W.H) - 23 km max with the battery 11.6 AH (418W.H)
Autonomy measured in optimum conditions, on a planar bike path with a 70-kilos rider that remains at a constant speed of 20 km / h.
Let's go back more detail on the different types of wheels for electric skateboard Switcher HP V2


Wheels 6 Inch Incredible
Incredible wheels Tell Airless ... They have no air chambers, but has an alveolar system that allow them a comfortable cushioning of the relief.
The size of 6 inches allows a sufficient crossing for the paths with small bumps and bring more safety to the city because it is not likely to hang in a tram rail, paved, etc.

The airless system allows the user to keep his serenity avoiding any puncture ... Ideal for city trips with obligation to arrive on time!

Diameter: 6 inches / 15 cm.
More info on the wheels 6 inches incredables.
8-inch inflatable wheels
Crampons wheels for accessing the most accidented terrain.
The air chamber system makes it possible to adapt the tire pressure to the field type. In addition to a fierce look for your skate, they provide unparalleled ride comfort.
They really trust beginners and authorize the most confirmed to rub all types of land.
It is the ideal wheel in all terrain, they will make you gain high to always cross more obstacles!
It is also adapted to the city thanks to the comfort of ride which provides.

Diameter: 8 inches / 20 cm
More info on the 3-inch inflatable wheels.
Cloudwheel 120 mm or 105 mm
Cloudwheel has decided to offer very high-end wheels for the HP V2 Switcher.
These wheels absorb further vibrations as traditional wheels in urethanes.
At the crossroads between the wheels all path and the wheels Street, you will have the assets of the two ... either more autonomy than the wheels 6 or 8 inches and more versatile and non-slip for the grounds with relief than the urethanes wheels.

These wheels are perfectly adapted in dry weather, but can be slippery on the bitumen is wet.
They are proposed in 2 sizes ofdiameter : 120 mm or 105 mm
More info on the Clowheel wheels.
Longboard wheels 90 mm or 83 mm
Find your skin sensations thanks to its hardness of hardness 80a ... They will allow you to turn your switch into longboard and gain autonomy and couple.
They will allow the skateboard purists to find their brands without the constraint of the pushing, having The pleasure of cruising, slalom ... They are made for bike paths, street, but will tolerate the asperities of a packed path.

They are proposed in 2 sizes ofDiameter: 90 mm or 83 mm

More info on longboard wheels.
Let's see the electric skateboard equipment Switcher HP V2
Bluetooth remote control with LCD screen
TheBluetooth remote control has a LCD screen offeringmultiple options :
Speed ​​regulator
Independent adjustment of acceleration and braking
Skate battery levels and remote control
Instant speed and speed max
Total mileage and mileage of the current session.
A high-end transport bag (optional)
The carrying bagspecifically designed For the HP V2 Switcher allows you to easily transport it and Any discretion on your workplace or in public transport.
You can wear it3 different ways : 
Backpack, with its adjustable 2 straps.

 

A shoulder strap,Enhancing one of the straps.
In sports bag,The 2 straps turn into handles. This bag is designed forrolled and slippedin one

 

Mini backpack supplied with the bag, forTransport it when using your electric skate.
Battery charger :
The lithium battery (Li-ion) is charging thanks to aCharger 2 amperes Supplied with the version 11.6 ah for aEstimated charging time at 5am
The battery 14 Ah is supplied with a Charger 4 amps,for aRefill twice as fast ! Charging time estimated at3h only.
The hook, practical to stall his front foot.
The Hook allowsStall the front footTo prevent the foot moves and modifies your support, or that the foot slides outside the skateboard deck electric andcauses a fall. 
With the HP V2 Switcher in all-ground mode, it is strongly recommended for a committed ride. You can also use it in longboard mode if you feel the need. 
Pie technology is also a quality service at your disposal:
For any product purchased at Pie Technology, you benefit from our quality-quality service for 2 years.
We have anrepair workshopand ofcustomizationand aSavingship Present to meet any request. You can reach us by email, phone as well as in our shops.
Delivery in 48-72 hours
Offered on France for all our hoverboard, electric skate, electric bicycles, and other gyropods.
2 years warranty
A French sav made by our skilled skilled technicians, electric scooter, electric scooter or gyrror to ensure you reactivity and tracking your repairs.
Quality, our priority
All our components, selected for their reliability, are CE certified, RoHS, FCC. Lithium batteries of our electric scooters and bike are certified.
Boutique sur Lyon
We welcome you from Tuesday to Saturday from 10am to 7pm to advise you and make you try free electric scooter, an electric skate or an electric bike.
---