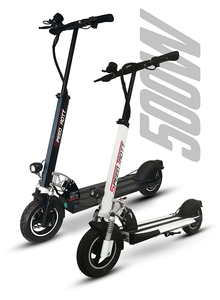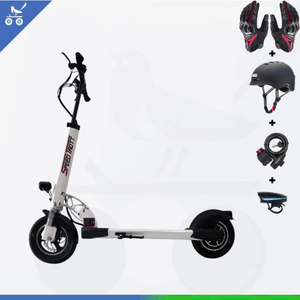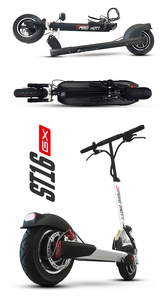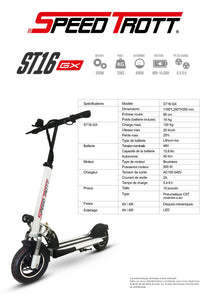 Electric Scooter Speedtrott ST16-GX - 48V 15ah
€1.190,00
This item is currently sold out.

Discover the electric scooter Speedtrott ST16-GX
SpeedTrott is a new electric scooter that favors comfort and performance. This is one of the rare scooters that features an inflatable wheel, a wide tray and an optional saddle. The SpeedTrott a scooter not like the others. The new version includes suspension into the front wheel.
This SpeedTrott is a condensed of what is done better in terms of comfort and performance. If its design is reminiscent of the MyWay and other Inokim, the interior and the details have been revised to bring more.
A scooter with a fast folding
At the exterior level, the foldable scooter (steering column and handlebar) is adorned with a multifunctional, backlit LCD console, with a trigger accelerator in the manner of the Egret and Go-Board. It also adorns with front and rear lighting and flashing.
The large and large plateau of this scooter
The tray makes it easy to put its feet either side by side or one in front of each other. It also allows to welcome inoption a seat.
The electrical part is powered in 48V. the500W brushless motoris given to reach a peak speed of 40 km / h. By default the scooter comes in a shredded version (23km / h) and to be able to mount 30°. The battery of 15Ah Samsung cell-based announces autonomy 40 km.
The cycle part is composed ofTwo inflatable wheels of 10 '. This gives it comfort, stability and ability to get out of the billed and marked terrain. The inflatable tires allow a good hang on wet surfaces (relative to "hard" wheels). Comfort is reinforced by the presence of a suspension on the front wheel. To stop the "beast" he was assistant a disc brake on each wheel. This gives it efficient and effective braking.
This scooter has equipment:
It is equipped with series of front and rear flashing lights and a sound lover.
SpeedTrott is a product that is not allowed on open roads to public. Its use is limited to private use.
CAUTION Displacement of the scooter can cause loss of warranty.
Strengths of the SpeedTrott ST16GX
Large inflatable wheels;
Large and large plateau;

With histray, the ST16-GX is aStable and comfortable electric scooter. The shock absorbers at the front allow you to roll on all types of road even those damaged!

With its 18 kg, the SPEEDTROTT ST16-GXcan support up to 120 kgdump.

Folding, the scooter can befolded in 3 secondsOnly with a simple gesture without going down and is easily transported.

Optional: you canAdd a top box or seatAt your scooter!
Technical specifications of the SPEEDTROTT ST16-GX:
| | |
| --- | --- |
| Color | Aluminum |
| Frame | aluminum |
| Wheels | 10 "with air chamber |
| Braking | Brake AV and Disk Ar |
| Motor | Electric brushless 48 volts, 500 watts |
| Battery | Lithium-ion 15 Ah |
| Use | Road |
| Autonomy | 25 km |
| Max speed. | 35 km / h |
| Max load capacity. (kg) | 120 kg |
| Loading time | 5 hours |
| Charger | External |
| Folded dimensions | 108 * 25 * 34 cm |
| Saddle | Available on option |
| Weight | 18 kg |
| Resistance to water | IP54 |
| Public homologation | No |
| Supplier warranty | 2 years - 1 year battery |
A quality service at your disposal:
For any product purchased at Pie Technology, you benefit from our quality-quality service for 2 years.
We have anrepair workshopand an understanding to meet any request. You can reach us by email, phone as well as in our shops.
* Pack offered for any purchase at the indicated public price. Not valid if use of a promotional code.
Delivery in 48-72 hours
Offered on France for all our hoverboard, electric skate, electric bicycles, and other gyropods.
2 years warranty
A French sav made by our skilled skilled technicians, electric scooter, electric scooter or gyrror to ensure you reactivity and tracking your repairs.
Quality, our priority
All our components, selected for their reliability, are CE certified, RoHS, FCC. Lithium batteries of our electric scooters and bike are certified.
Boutique sur Lyon
We welcome you from Tuesday to Saturday from 10am to 7pm to advise you and make you try free electric scooter, an electric skate or an electric bike.
---