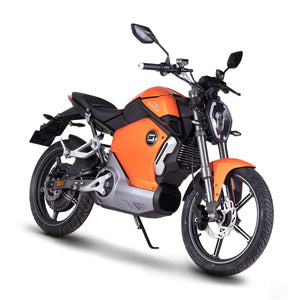 €2.990,00
You benefit from free shipping for this order, enjoy!
---
Delivery 48-72h
2 Year warranty
Quality products
Secure payment
---
Un 2 roues 50cc3 pour la ville 
Pie technologie vous propose la Super SOCO TS est un poids plume très maniable. Elle est adaptable à tous les gabarits grâce à des cales-pieds réglables en hauteur et un guidon ajustable.
La combinaison d'un poids léger et d'un cadre rigide en aluminium et acier confère à cette moto électrique une excellente maniabilité en ville : elle est parfaite pour se jouer de la circulation, son comportement est particulièrement sain.
Un moteur 
BOSCH

 haute performance

Le moteur, situé dans la roue arrière du véhicule, vous évitera tous les inconvénients d'une transmission classique par courroie ou par chaine.

Le moteur BOSCH délivre une puissance maximale de 2400 Watts ! Les accélérations de la Super SOCO TS seront supérieures à celle d'un équivalent thermique 50cc, un must pour une conduite souple en ville !!

Inutile de dire que vous vous retrouverez aisément à 45 Km/h mais sachez que ce bolide peut atteindre la vitesse de 70 Km/h en mode débridé (sur circuit).
Un design et une conception haut de gamme
La Super SOCO TS place la barre très haute, ce véhicule est un véritable bijou de technologie. Ses designers ont su trouver le parfait équilibre entre design et robustesse.
Accessible sans permis, la moto électrique Super SOCO TS allie style et performance avec son moteur spécialement conçu par le fabricant allemand BOSCH.
Cette moto vous permettra de vous déplacer en milieu urbain sans émission de carbone !!
Un système de batterie amovible
La Super SOCO TS peut accueillir jusqu'à deux batteries : la 2ème batterie est vendue séparément au prix de 900,00 €. L'autonomie est comprise entre 50 et 80 km avec une batterie et entre 100 et 160 km avec deux. L'autonomie varie selon le style de conduite, la charge embarquée et le dénivelé. Ces batteries sont amovibles et peuvent être rechargée à partir de n'importe quelle prise électrique. La recharge à 100% s'effectue en 6 heures, sur une prise 220V classique à la maison ou au bureau.
Les puissants accus Panasonic, LG et Samsung alliés au système breveté E-moped (système de gestion de batterie intelligent optimisant la consommation) permettent de parcourir des distances allant jusqu'à 160 km.
Type de moteur : Hub Brushless 
BOSCH
Puissance maximum : 2400 Watts
Puissance nominale : 1800 Watts
Vitesse sur circuit : 70 km/h (non homologué sur route)
Mode de conduite : 3 modes : Eco / Normal / Sport
Batterie : Lithium-ion Panasonic 18650
Caractéristique : BMS LG / 60 V / 26 Ah
Cycles : 700 (env. 60 000 km)
Nombre de batterie série : 1
Autonomie 2 batteries : 100 à 160 km
Temps de charge : 5/6 heures
Coût de revient : 25 cts / 100 km
Tableau de bord : Digital LCD
Application Bluetooth : Non
PNEUS / FREINAGE : 
Suspension avant :
Fourche hydraulique inversée 35 mm, débattement 110mm
Suspension arrière : Mono-amortisseur ressort réglable
Frein avant : Disque Ø 220 mm
Frein arrière : Disque Ø 180 mm
Dimension L/l/H : 1890 x 700 x 1050 mm
Hauteur de selle : 770 mm
Coffre de rangement : Petit coffre dans le réservoir
Coloris : Noir, Rouge, Blanc, Gris argenté, Orange
* Les données de vitesse et d'autonomie ont été recueillies lors d'essais sur une piste sans pentes, par temps clair avec une température de 25° et par un pilote de 55 kg. 
Delivery in 48-72 hours
Offered on France for all our hoverboard, electric skate, electric bicycles, and other gyropods.
2 years warranty
A French sav made by our skilled skilled technicians, electric scooter, electric scooter or gyrror to ensure you reactivity and tracking your repairs.
Quality, our priority
All our components, selected for their reliability, are CE certified, RoHS, FCC. Lithium batteries of our electric scooters and bike are certified.
Boutique sur Lyon
We welcome you from Tuesday to Saturday from 10am to 7pm to advise you and make you try free electric scooter, an electric skate or an electric bike.
---