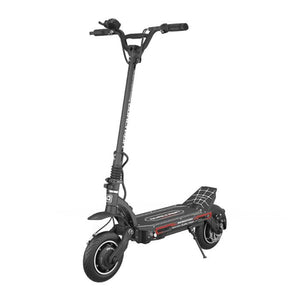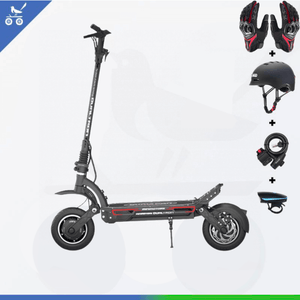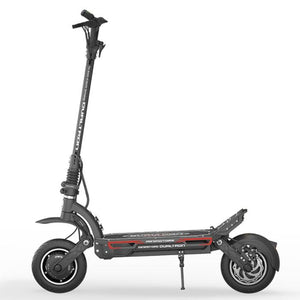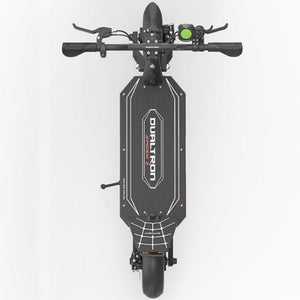 Dualtron Spider 2 - 60V 24Ah / 30Ah electric scooter
€1.890,00
You benefit from free shipping for this order, enjoy!
---
Delivery 48-72h
2 Year warranty
Quality products
Secure payment
---

Discover the electric scooter Minimotors Dualtron Spider 2
The Electric scooter Dualtron Spider 2 is a small revolution in the minimotor brand range. This new 2021 version of the Scooter Dualtron has a great autonomy (120 km) for a Weight of 26 kg! A real prowess considering the weight of the battery
The electric scooter Dualtron very powerful
With its weight of 26 kg, the Electric scooter Dualtron Spider 2 is a very light sport scooter model with its 10-inch inflatable tires.
The power of the Daltron Spider scooter is always at the rendezvous with two brushless engines that develop a maximum power of 3984W.
The Daltron Spider 2 can easily reach 70 km / h in advanced speed. Its robust frame supports a charge of 100 kg and allows to climb slopes up to 25%.
An ergonomics of redesigned electric scooter

The Daltron Spider 2 has been designed so ergonomic for be able to fold it On the deck and thus transport it more simply thanks to its handlebar attachment directly integrated into the deck.
Finished the direction game in the stem thanks to the Double point clamp On the Dualtron Spider V2
A crutch is installed to park the machine. Ideal for storing after use or to pause between 2 wrinkles.
An LCD screen is positioned on the handlebar to control the speed, The battery gauge, the rear light or the automatic ignition of the device.
What are the news of the Dualtron Spider 2 scooter?

Here are the novelties to note on this dualtron spider 2 :
Charging plug placed in the front suspension arm
Foldable electric scooter with built-in handlebar attachment in the deck
New footrest with spider canvas drawing, rear led lights and controller

A new minimotor suspension arm

Double tightening collar to avoid direction game and more security
The Daltron Spider is equipped with a High performance li-ion battery (LG 21700 60V 30Ah) for a Autonomy of 120 km and a charging time of 11 hours.
10 Inch Inflatable Tires and Minimotor Cartridge Suspensions
We find on this new model, cartridge suspensions "New Generation Minimotors" which are installed at the front and in the back. Always to ensure good driving comfort, the Spider V2 has10 inch tires Air chamber air inflatable. An appreciable element during your urban and peri-urban trips.
Security is ensured at the braking level since the minimotor's Dualtron Spider II electric scooter is equipped with Front and back disc brakes. A kinetic energy recovery system is still there to optimize the battery life.
It is also possible to move in dark darkness because the dultron spider 2 proposes a LED lighting front and rear on the walking with stop.
Characteristics of the electric scooter Minimotors Dualtron Spider 2
Maximum speed

 

: 25 km / h (70 km / h on private road)

Autonomy

 

: 120 km (30ah) - 80 km (24ah)
Recharge time

 

: 11:00
Allowed weight: 120 kg
Weight

 

: 26.2 kg
Wheel size

 

: 10 inches Front and back air chambers
Width of the wheels: 2.25 inches
Brakes

 

: Disc front and rear
Motor

 

: 2 x 1000W Double Brushless Magnesium
Maximum power: 3984W
Battery

 

: Li-Ion LG 21700 - 60V 30Ah 1800WH - 60V 24Ah 1440WH
Headlight

 

: front and rear
Diffound dimensions: 114 x 124 x 60.5 cm
Folded dimensions: 114 x 50 x 24.5 cm
Slope use up to 35 degrees
Suspension

 

Front and rear (minimootor cartridges)
Guarantee

 

: 2 years, parts and labor (1 year for battery)
Color

 

: Black
A quality service at your disposal:
For any product purchased at Pie Technology, you benefit from our quality-quality service for 2 years.

We have anrepair workshopand ofcustomizationand aSavingship Present to meet any request. You can reach us by email, phone as well as in our shops.
* Pack offered for any purchase at the indicated public price. Not valid if use of a promotional code.
Delivery in 48-72 hours
Offered on France for all our hoverboard, electric skate, electric bicycles, and other gyropods.
2 years warranty
A French sav made by our skilled skilled technicians, electric scooter, electric scooter or gyrror to ensure you reactivity and tracking your repairs.
Quality, our priority
All our components, selected for their reliability, are CE certified, RoHS, FCC. Lithium batteries of our electric scooters and bike are certified.
Boutique sur Lyon
We welcome you from Tuesday to Saturday from 10am to 7pm to advise you and make you try free electric scooter, an electric skate or an electric bike.
---