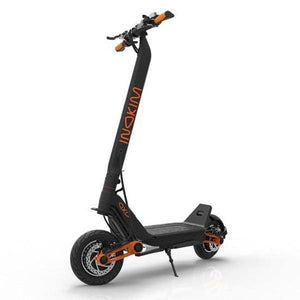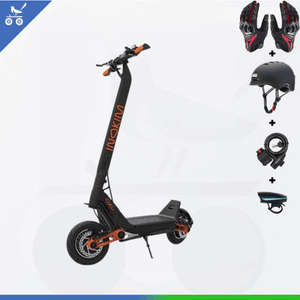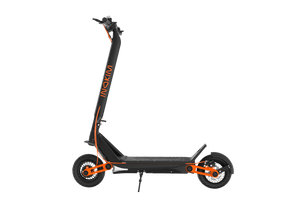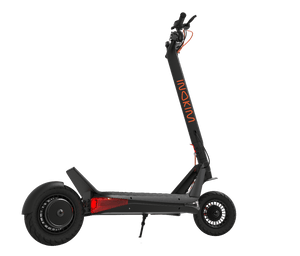 Inokim Oxo electric scooter - 60V 25ah
€2.690,00
You benefit from free shipping for this order, enjoy!
---
Delivery 48-72h
2 Year warranty
Quality products
Secure payment
---

Discover the Electric Scooter Inokim Oxo 60V - 25ah
Drawn power, dazzling lightning, clean design, Inokim Oxo is the high-end electric scooter, all right from the future!
Qualified as the Rolls Royce Electric scooters, its particularity is in its use at startup, you are explained:
Compared to the rangesDultron Where ZeroWhere there is a power raised when we leave, the inokim oxo must be pushed to start, which makes it very nice and authentic. Ideal for all romants of the scooter and nostalgia.
We tell you more about theInokim Oxo In his article, do not hesitate to learn more about this jewel.
Inokim The high-end brand of Israeli origin, enters the world of powerful electric scooter with a double wheel model.
Let yourself be embedded by the brand newINOKIM OXO electric scooter, with its Two brushless engines1000W nominal capable of developing up to 1300W in ridge. His wide tires10 inches, the flexibility of its Shock absorbers that can be settled, her lithium battery last generation of 60V, The finishes and the quality From the Israeli brand make it an electric scooter stand out from all others.
The Inokim Oxo perfectly follows the history of the brand, offering models with a unique design. Its sober and sporty look without being aggressive, its black structure and its orange finishes gives it a unique style.
Electric scooter
 

INOKIM OXO:Performance

The electric scooter Inokim Oxo has Two brushless engines of 1000W nominal.Its acceleration torque allows you to face any sort of slopes in town like ballad on the way.

Reaching easily The 65km / h in advanced speed (On private lanes and circuits), we remind you that the tolerated speed is 25km / h on the bike paths and the roadway. One can choose to operate only one of its engines or both at a time to face the most critical situations.

To feed the beast, it took a goodLithium battery of high capacity in 60V of 25.6Ah, where most of its competitors work with a battery with a voltage of 48 see 52V.

In this case, listed autonomy, she can take you to 110 km in one charge (eco mode).

 
Electric scooter
 

INOKIM OXO:Comfort

Equipped with two large inflatable 10 inches in diameter wheels.Its perfect handling. She hasFront and rear shock absorbers new generation patented inokim.

You can adjust the hardness of these depending on the desired level of comfort. She is of courseFoldable in seconds.

Handle side, it is set in height, the bar is fixed (fixed handle) which offers a More important rigidity During your adventurous outings.

We do not forget his double brakeDisk at the front and in the back, making it possible to manage your emergency braking.

 
Electric scooter
 

Inokim Oxo: Equipment

We find the entire Standard of the INOKIM brand, integrated front / rear lighting on the sides of the deck, doorbranelt with the brake handle, a complete electronic display (speed, km course, autonomy, cruise control ...). As on the Inokim Light 2, it is equipped with a practical crutch for your minutes.

 
What we love on the Electric Scooter Inokim Oxo:
Its sleek and futuristic design

The comfort of broad 10 inches wheels

Autonomy pushing wrinkles up to 110 km

The crossing capacity of impressive climbs

The double hydraulic braking

The double 1000W engine
INOKIM OXO electric scooter: Features
Speed: 25 km / h - 65 km / h on private road
Wheels: 10-inch inflatable front and rear
Front and back disc brake
A quality service at your disposal:
For any product purchased at Pie Technology, you benefit from our quality-quality service for 2 years.
We have anrepair workshopand an understanding to meet any request. You can reach us by email, phone as well as in our shops.
* Pack offered for any purchase at the indicated public price. Not valid if use of a promotional code.
Delivery in 48-72 hours
Offered on France for all our hoverboard, electric skate, electric bicycles, and other gyropods.
2 years warranty
A French sav made by our skilled skilled technicians, electric scooter, electric scooter or gyrror to ensure you reactivity and tracking your repairs.
Quality, our priority
All our components, selected for their reliability, are CE certified, RoHS, FCC. Lithium batteries of our electric scooters and bike are certified.
Boutique sur Lyon
We welcome you from Tuesday to Saturday from 10am to 7pm to advise you and make you try free electric scooter, an electric skate or an electric bike.
---