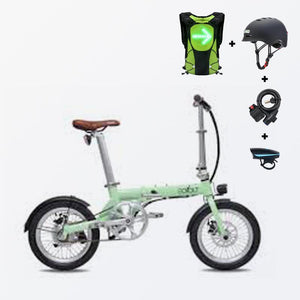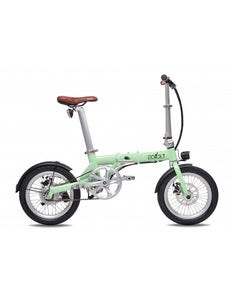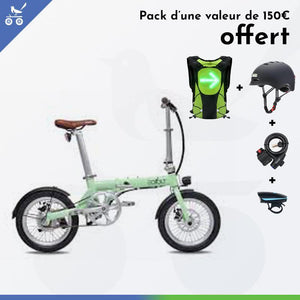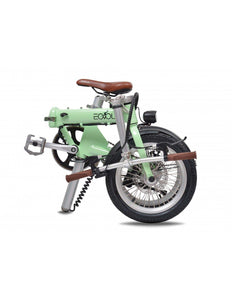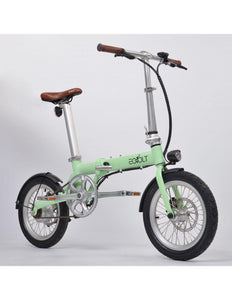 EOVOLT RETRO FOLDER ELECTRICAL BIKE
€1.289,00
This item is currently sold out.

A bike with electric assistance
The retro EOVOLT bike is a folding electric bike, light and ultra-compact. Ideal for motorhomes, boat owners or simply for city dwellers wishing a convenient electric bike for their daily trips.
Its handles and saddle of brown color, its gray aluminum finishes and its pastel green color give Eovolt retro a more "vintage" style recalling classic city bicycles.
The retro Eovolt folds easily in seconds. You can quickly store it in your apartment or at your workplace. Small and discreet once folded, the retro EOVOLT bike allows you to optimize your space.
A very large autonomy:
The retro EOVOLT bike is equipped with an integrated LG lithium-ion brand battery in the saddle stem, which combines aesthetics and practicality.
Indeed, beyond proposing a more attractive visual, this new system is very convenient because it allows to recharge the battery of your EOVOLT bike without having to move it.
Move effortlessly!
No more efforts spent fighting against wind, rain or steep slopes that we do not see the end.
Thanks to its engine with 5 support levels, the retro EOVOLT allows you to move up to 25km / h without effort and in all circumstances.
Brushless engine 250W
With brushless technology you do not feel any friction when electrical support is unused.
Whether you opt for pedaling assistance, or not, the retro EOVOLT bike remains easy and comfortable to drive.
An ultra-compact bike
Specially designed for city dwellers, motorhome owners or boat, Eovolt retro bike is a folding, lightweight and ultra-compact electric bike.
Easily transportable
Small and discreet once folded, the retro EOVOLT bike allows you to optimize your space unlike conventional electric bikes often bulky.
Take your Eovolt wherever you go to move with ease once arrived at destination.
Lightweight and rigid:
A minimum weight for maximum portability!
Thanks to its 6061 aluminum alloy frame, the retro EOVOLT combines lightness and rigidity.
On-board computer with USB port
The Retro Eovolt bike is equipped with an on-board computer with LCD screen with multiple functions. A USB port is also integrated allowing you to recharge your phone or other electronic device.
FOLD & GO system
With the Fold & Go system, you can move your EOVOLT bike being folded, allowing you to combine with other means of transport such as the metro, the bus, the tramway or the train.
Easy folding system
We have developed a new easy folding system to gain compactness. For more practicality two magnets allow you to fix the wheels to each other when the bike is folded.
160 mm disc brakes
The retro EOVOLT bike is equipped with 160mm disc brakes for powerful, progressive braking and enduring in all weather conditions.
A quality service at your disposal:
For any product purchased at Pie Technology, you benefit from our quality-quality service for 2 years.
We have anrepair workshopand an understanding to meet any request. You can reach us by email, phone as well as in our shops.
* Pack offered for any purchase at the indicated public price. Not valid if use of a promotional code.
Delivery in 48-72 hours
Offered on France for all our hoverboard, electric skate, electric bicycles, and other gyropods.
2 years warranty
A French sav made by our skilled skilled technicians, electric scooter, electric scooter or gyrror to ensure you reactivity and tracking your repairs.
Quality, our priority
All our components, selected for their reliability, are CE certified, RoHS, FCC. Lithium batteries of our electric scooters and bike are certified.
Boutique sur Lyon
We welcome you from Tuesday to Saturday from 10am to 7pm to advise you and make you try free electric scooter, an electric skate or an electric bike.
---