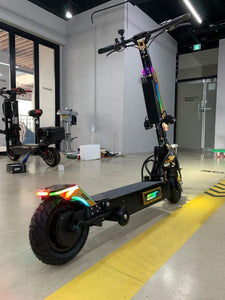 WEPED FOLD 11 - 12 000W 30AH electric scooter
€4.490,00
This item is currently sold out.

The electric scooter WEPED FOLD 11 12000W 30AH:
A powerful WEPED scooter is a combination of a unique setting and advanced technology, so you can see the naked eye how much it differs from the electric scooters in its class.
First of all, an interesting solution that has been used to create the management rack. It consists of four reinforced walls, consequently, due to the absence of a massive rack, it has the least resistance.
Comfort and incredible road handling:
In addition, the management rack has the ability to change the angle of inclination, which makes the scooter even more versatile. The bigger the inclination angle, the more sporty and fast driving mode.
As a result, with the smallest angle of inclination of the luggage rack, the electric scooter is better used in an urban environment in silent mode.
In addition, a variety of fires and lights can be installed on the handlebar and scooter posts with the many adapted mounting rails.
An incredible performance on this scooter:
Secondly, the combination of a powerful overall electric motor motor and off-road tires allows both fast acceleration and off-road driving. The dynamic features of this scooter are also excellent. Mid Drive with a 3600W power with a 60V operating voltage accelerates the electric scooter at 40 km / h in 3 seconds. Outboard engines turn more than the engine with wheels of the same power.
A quality battery:
The heart of WEPED is the Samsung Korean origin battery with a capacity of 30Ah and a voltage of 60V. As a result, nearly 2 kilowatt hours, which at a speed of 30 to 35 km / h will browse up to 110 km.
Technical description :
Performance :Light speed at 25km / h (max speed: 90km / h on private ground)
Autonomy:100 km
Battery :60V 30Ah Samsung 21700 CELL 16S 6P
Weight :about 39 kg
Motor :12 000w dual hub
Brake:Hydraulic disc + electric
A quality service at your disposal:
For any product purchased at Pie Technology, you benefit from our quality-quality service for 2 years.
We have anrepair workshopand an understanding to meet any request. You can reach us by email, phone as well as in our shops.
* Pack offered for any purchase at the indicated public price. Not valid if use of a promotional code.
Delivery in 48-72 hours
Offered on France for all our hoverboard, electric skate, electric bicycles, and other gyropods.
2 years warranty
A French sav made by our skilled skilled technicians, electric scooter, electric scooter or gyrror to ensure you reactivity and tracking your repairs.
Quality, our priority
All our components, selected for their reliability, are CE certified, RoHS, FCC. Lithium batteries of our electric scooters and bike are certified.
Boutique sur Lyon
We welcome you from Tuesday to Saturday from 10am to 7pm to advise you and make you try free electric scooter, an electric skate or an electric bike.
---