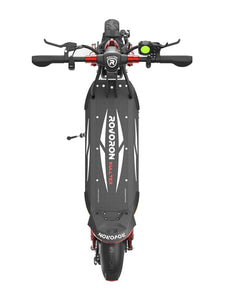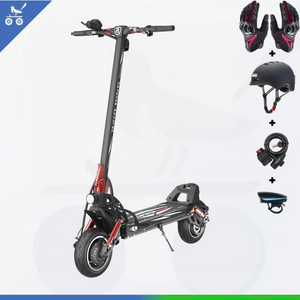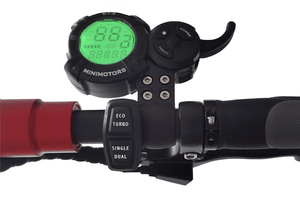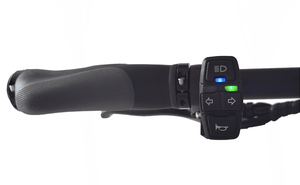 Bronco Xtrem Sport Electric Scooter - 72V 35Ah
€4.190,00
You benefit from free shipping for this order, enjoy!
---
Delivery 48-72h
2 Year warranty
Quality products
Secure payment
---
Electric scooter Bronco Xtrem: a design up to your expectations
In advance Delivery Current Fevrier 2021
TheElectric scooter Bronco Xtrem Sport 72V,Impressive design and assembly, the quality of this model, like all products of the Society Pie Technology, does not arouse any complaints. The electric scooter Bronco Xtrempromises to be up to expectations. Powerful, elegant, stable, equipped with various systems that improve its performance. It has been designed to get you ever further, and always faster.
The famous electric scooter Bronco Xtrem 72V great sister of the electric scooter Bronco 60V.
TheNew Bronco Xtremis one of the most powerful and rapid electric scooters on the market. It begins to approach the performance of a scooter or a motorcycle.
Like all Bronco models, it is equipped with an 8400W brushless engine. The total power developed by this double engine is 4200W in each wheel, allowing this gear to ride up to a record speed of 100 km / h.

What would you use to have without autonomy power to enjoy it? Surely not much. Well, with theBronco Xtrem 72VYou have a powerful 72 volts lithium-ion battery and 35 ah. It allows you to travel 100 km thanks to a single charge. The Bronco XtremSo is quite suitable for long distances.
The new Bronco Xtrem 72v: model innovations
TheNew electric scooter Bronco Xtremobviously presents several improvements on multiple points.

This scooter is not afraid of impracticability. Its suspensions are improved (PFLEX system) bring softness and comfort to driving. They can be adjusted in five different ways: in height, rigidity ... etc.

TheBronco Xtrem 72V electric scooteris equipped with a double braking system, namely a hydraulic brake on the front wheel and a disc brake on the rear wheel. This braking is more efficient, ensuring excellent control and stability for driver safety. And considering the speed that can reach the device, as much as equipped with the best possible braking system.


The Bronco Xtrem 72v: for whom and for what purpose:
The Bronco Xtremis a model ofhigh-end electric scooter. The price therefore reflects the exceptional qualities of this scooter.
It brings significant novelties, even if it remains quite close to the dultron stormwhich is nevertheless a little lighter.
First of all, the Bronco Xtrem has almost the same suspension that theDultron Thunder . Comfort and safety are also increased with Nutt hyrdraulic brakes with 160 mm discs front and rear.
Finally, the latest generation skate is equipped with Tires 11 inch cst tubeless, avoiding coping with the puncture of the air chambers.
The scooterBronco Xtrem 72Voffers autonomy that can climb up100 kmand a maximum speed of100km / h, insured by a double brushless engine of8400 Watts. Its Li-ion battery72V Fully recharges in 18 hours. Hisbroad 11 inch cst wheelsAnd its suspensions at the front and back guarantee road comfort. As for the lighthouses present, they allow to ensure safety, as is the technology ofHydraulic assistance disc brakese at the front and back.
Regarding the ergonomics of this model, it weighs a little more 48 kg and can withstand a load ranging up to 120 kg This makes it a possible good model for trucks. Black, this scooter displays a sober and sleek design and sells 3990 €.

The advantages of the electric scooter Bronco Xtrem 72V
TheScooter of the Bronco rangehas been fully produced internally by the brand. The latter represents a mix of power between power, aesthetics and advanced technology. Indeed, the newSuspension system before 125 mm KindShock EXA / DNM 2000LBS and the rear suspension system165 mm DNMAOY-36 Air Adjustable Suspension in PreSssion.
The BRONCO XTREM 72V scooter battery
Among the advantages of this scooter, it must be noted first and foremostUltra powerful 72V batterywhich offers a total of 2520WHwhich can reach up 100 kmautonomy in conventional driving mode. The user thus has the opportunity to make great distances without the need to recharge the skate, which is a great positive point to multiply the long daily journeys.
During driving, It is possible to drive only with the back engine or with both engines.
Concerning Loading timeThis scooter is equipped with two load ports. It comes with a single charger, but the buyer can acquire another to accelerate the load. Indeed, with the charger provided, it will be necessary to wait 20H and 5h with fast chargerSo that the battery is full again! On the other hand, with a second loader, the time will be reduced to 9H And it is even possible to decrease it until 6am with a fast model.
This last generation scooter is equipped with a motor of
8400 Watt
, wearing. Such a motor makes it possible to classify the
Bronco Xtrem 72V
Among the powerful electric scooters of the market. With its controller 2 in 1
72V100A
.
Attention, because a speed so high requires the port of a
helmet
and protections for your safety. Limitations in the city will not help roll as fast.
Description:
Battery: 72V 35Ah 2520WH LG MJ1 (35Ah per cell)
Autonomy: 120 km in eco mode
Max speed: 109kmh on private channels
Max load: 120 kg
Slope: capacity 35 °
ABS Electric Brake System: Active or deactivated
Brakes: Nutt hydraulic brake with 160 mm discs front and rear
Engine: Max 8400W BLDC Double Engine + 4.0 mm² Teflon Cable
Controller: 2 in 1 72V 100A
Materials used for the chassis: 6061-T6 Aviation Aluminum Forged + 6063-T6 Forged Aluminum
Materials for flanks and sludge guards: Polypropylene (PP)
Front Son Protector: Carbon Fiber
Tires: 11 Inch CST
Front suspension: 125 mm KindShock EXA / DNM 2000LBS Coil Suspension
Rear suspension: 165 mm DNMAOY-36 Air pressure adjustable suspension
Front lighthouse: Quad LED
Rear light: Quad LED red light + Stop light and scintillating yellow light
CENTRE: 680 mm Foldable handlebar type XTasy
Switches: Eco / Turbo + Mono / Dual and Lights
LCD: adjustable
Fingerprint optional
Steering shock absorber: standard
Charging time: 20h with a standard charger 1.75a and 7am with a fast charger 5a
Net weight: 48 kg
A quality service at your disposal:
For any product purchased at Pie Technology, you benefit from our quality-quality service for 2 years.
We have anrepair workshopand an understanding to meet any request. You can reach us by email, phone as well as in our shops.
* Pack offered for any purchase at the indicated public price. Not valid if use of a promotional code.
Delivery in 48-72 hours
Offered on France for all our hoverboard, electric skate, electric bicycles, and other gyropods.
2 years warranty
A French sav made by our skilled skilled technicians, electric scooter, electric scooter or gyrror to ensure you reactivity and tracking your repairs.
Quality, our priority
All our components, selected for their reliability, are CE certified, RoHS, FCC. Lithium batteries of our electric scooters and bike are certified.
Boutique sur Lyon
We welcome you from Tuesday to Saturday from 10am to 7pm to advise you and make you try free electric scooter, an electric skate or an electric bike.
---